Cholesterol Test Available at your local Pharmacy and online
Purchase the Cholesterol test below at your local Pharmacy. Please ask them to order it through their wholesaler if it's not stocked.
Or purchase online at one of the following online stores: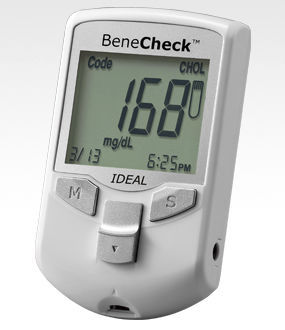 An excessive Cholesterol level increases the risk of heart disease and is responsible for more than half of the 125,000 deaths from coronary heart disease, annually, in the UK. It is a "silent killer" as in itself it does not have symptoms, so without testing without frequent doctor's appointment.
The BeneCheck BK6-12M Plus Multi-Monitoring meter is an easy to use, handheld device which allows you to check your Cholesterol, as well as Glucose and Uric Acid levels.
The BeneCheck BK6-12M system uses the latest amperometric technology in a unique electrochemical process. Automatically collecting by capillary action a tiny amount of blood to provide accurate and consistent results in 30 seconds. A simple, painless, speedy procedure. It needs less blood than other meters to perform these tests.
BeneCheck Advantages
The BeneCheck BK6-12M Multi-Monitoring meter has the lowest recurring cost for strips
Accurate results delivered extremely quickly
No complex menu system
Most cost effective strips on the market
Small samples required to run tests
Extremely long battery life
Small and compact
Cholesterol Test Kits
Cholesterol Test Kits can help assess the risk of developing heart disease. The test indicates the level of cholesterol in the blood. It does this using a special dye that changes colour in proportion to the amount of cholesterol in the blood. The test gives an estimate of the amount of cholesterol in the blood. Elevated cholesterol levels increase the risk of coronary and vascular diseases.
Key features:
Tested by laboratories worldwide
High Clinical Accuracy
Reliable and fast results
Safe and easy to use