Available at your local Pharmacy
Purchase the Alcohol Breathalyser test below at your local Pharmacy. Please ask them to order it through their wholesaler if it's not stocked.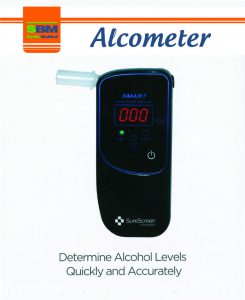 Features
High accuracy
Flow sensor to indicate donor is using correctly
Backlit displays for use at night
Increased testing speed
Warning lights for positive results
Kit comes with 3 mouthpieces, battery and a heavy duty case
6 months (or 500 tests) between calibrations
Specifications
Sensor Smart Fuel Cell sensor
Accuracy ±0.005% BAC at 0.050% BAC
Detection Range 0.00 – 2.00mg/I BrAC I 0.00 –
4.00% Promile
Warm-up Time 15 – 35 seconds
Response Time 3 – 22 seconds
Dimension 125mm x 56mm x 24mm
Weight 87g, (131g Battery included)
Power Supply 9V alkaline battery
Working Temp 5°c – 40°c
Storage Temp 0°c – 40°c
Warranty 1 Year Limited Warranty
Calibration
The Alcometer requires calibration every six months or 500 tests.